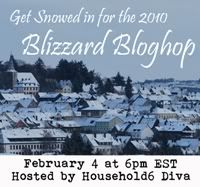 Lookout for the 2010 Blizzard Bloghop for bloggers who were not able to attend Blissdom 2010. This is a way for us to meet new bloggers – that is fun in my book!
Thanks for Stoppin' by the Ranch for a visit! I hope you like what you see and will keep comin' back! We would love to have you as a follower, twitter friend, facebook friend! You can follow us by clicking on one of the buttons on the top right hand side-bar.
Hey, pull up a chair and stay awhile and get acquainted – I have some hot coffee brewin' ranch style and some cowboy cake hot out of the oven.
My name is Nancy and I started Raging Bear Ranch Tightwad and Proud last year (August 2009). I needed somewhere to post my finds and deals, giveaways and just to journal. We have a giveaway right now going on – check it out here.
I never imagined that others would read what I write but now I LIVE for comments! My husband, Bear and I are parents to 8 horses and 4 dogs. 2 horse angels (Charlie and Dino) and one dog angel (Wyatt). We are transplanted Oklahomans living in Missouri. We are involved in Search and Recovery and have two certified SAR canines (Niki and Wyatt) that I personally trained and handle. Bear is my flanker on searches. Wyatt (now one of our angels) (you can see us on a water mission on the left in our photo gallery) has two finds on the water.
Raging Bear Ranch blogs about frugal, simple living and finances and how we handle lifes ups and downs at the ranch! You know with 8 horses and 4 dogs, we are bound to have some of those days! Check out Duke being caught red-pawed – yep, that is life on ranch! People are always asking how we afford all of our animals – well, check out our Blog to see how we do it! In addition, I have articles around Being Prepared for Anything and you can check those out by clicking the button on the left tool bar.
I am excited to participate and if you are reading this – please leave me a comment and Thanks for stopping by the Ranch, I hope you can come back and visit often – we love you all for visitin'!